>
Home
Upcoming Hill Church Events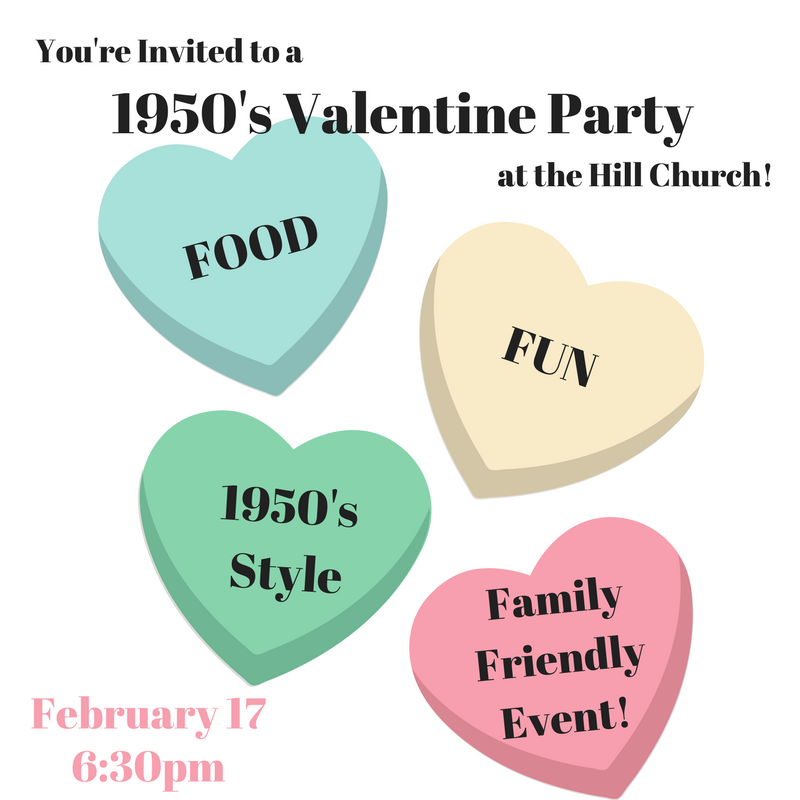 Valentine Party at the Hill | February 17 at 6:30pm
You are invited to our 1950's Valentine's Day Party at the Hill Church! Bring your family and friends to this 1950's themed party for fun, food and fellowship.

Dress up in your favorite 1950's outfits and see who wears it best! (optional)

Food will be provided. This is a free social event for all ages.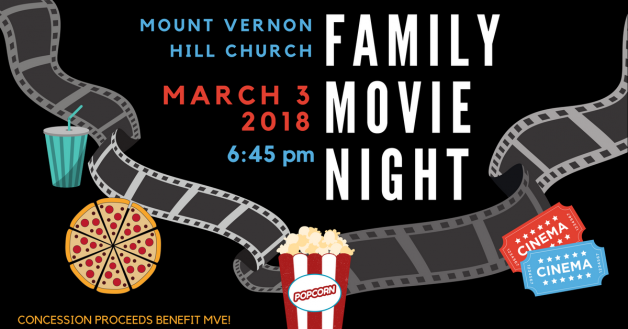 Family Movie Night at the Hill | March 3 at 6:45 pm
Families are invited to a special showing of the movie "Finding Dory" on Saturday night, March 3. The movie is FREE. Kiddos can come in their jammies and bring their sleeping bags or blankets to lay on while watching the movie.

Pizza, beverages, popcorn and snacks will be for sale. Proceeds go to Mount Vernon Elementary. All ages welcome! Bring your friends and neighbors! 
See Pastor Fred or Heidi for additional details.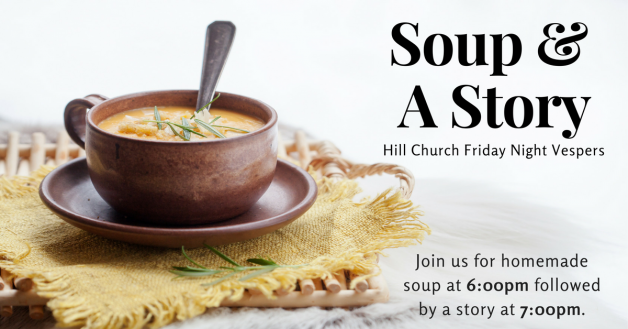 Soup & A Story | March 16 at 6:00 pm
Soup & A Story: Hill Church Friday night vespers is a monthly event where friends gather for a free soup supper at 6:00pm followed by a story at 7:00pm.

This month our story is "Come Before Winter," a docudrama about the last days of Dietrich Bonhoeffer - a German pastor, theologian and anti-Nazi dissident. It was produced by Southern Adventist University alumni. EXECUTIVE PRODUCERS (GARY & LEE BLOUNT) WILL BE AT THE HILL TO ANSWER QUESTIONS during this showing.

Learn more about this important docudrama here: http://comebeforewintermovie.com/home/synopsis/.

Watch a trailer here: http://comebeforewintermovie.com/home/trailer/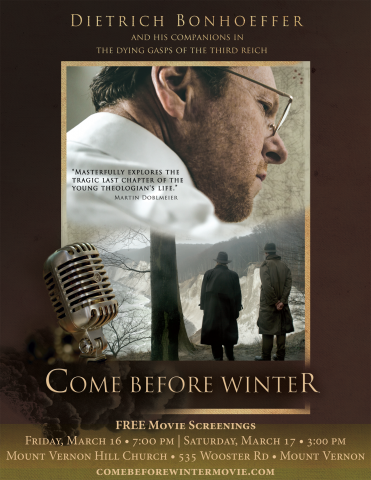 Come Before Winter | March 16 at 7:00 pm | March 17 at 3:00 pm
Discover the unforgettable true story of Dietrich Bonhoeffer, one of the most influential Christian martyrs of the 20th century.
Come Before Winter explores the final weeks of World War II through the eyes of Nazi resistor Dietrich Bonhoeffer and some unlikely companions--including Sefton Delmer.
Delmer was a well-known propagandist who created a fake news radio program to help fool the enemy. But was it worth it?
We will be screening Come Before Winter on Friday, March 16 at 7:00 pm and Saturday, March 17 at 3:00 pm at the Hill Church. The film screenings will be introduced by executive producer Gary Blount, PhD, MD, and followed by a Q&A.
Watch a trailer here: http://comebeforewintermovie.com/home/trailer/
This event is free and open to the public.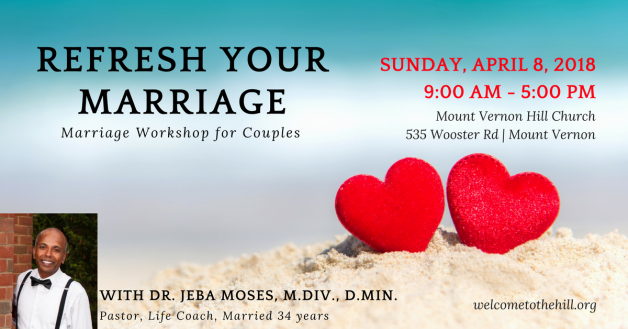 Refresh Your Marriage | April 8 from 9:00 am - 5:00 pm
Refresh Your Marriage!

Learn biblically sound ways to:
1. Rekindle your romance.
2. Fan the flames of desire & improve your sex life.
3. Communicate so well that both of you feel truly understood and valued.
4. Break free from frustration and move into greater intimacy.
5. Be respected and be respectful.
6. Experience lasting satisfaction in your marriage.

Presented by Dr. Jeba Moses, M.Div., D.Min.
Jeba is a pastor, life coach, and has been married for 34 years. His favorite pastimes include reading jokes, running, and observing human behavior.

Place: Mount Vernon Hill Church
535 Wooster Rd | Mount Vernon, OH 43050
Fee: $30.00/couple - lunch included

Additional details coming soon!